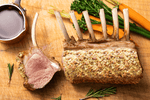 Parmesan crusted Rack of Lamb
Get inspired by our delicious Parmesan Crusted Rack of Lamb Recipe
Ingredients
Serves 2
Prep Time: 20 mins
Cooking Time: 30 mins
1 JW Galloway Scotch Rack of Lamb
45g breadcrumbs
Small bunch of parsley chopped
1tbsp chopped rosemary
1 clove of garlic, minced
30g grated Parmesan
2 tbsp olive oil
Salt & pepper
1 tbsp Dijon mustard ( to brush lamb rack)
Directions 
Preheat oven to 200 degrees.
Generously season lamb rack with salt & pepper.

Heat a frying pan over medium heat. Add 1 tbsp olive oil and sear all sides of the lamb rack until browned, about 3-4 minutes. Remove from the pan and place on a baking sheet.

In a food processor, blend the breadcrumbs with parsley, rosemary, garlic, parmesan cheese & olive oil and pulse until combined and pour into a bowl.
(The breadcrumb mixture serves 3. The leftover can be frozen and used in the future)

Brush the lamb with Dijon mustard and coat top and sides with the breadcrumb mixture & place in the oven for 20-25 minutes.
Rest for 5 minutes before carving.


Enjoy your herb crusted rack of lamb.