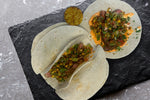 Steak tacos, Charred sweetcorn salsa, smoked paprika mayo
Ingredients
Serves: 4 (8 Tacos)
Prep Time:15 mins
Cook Time: 20 mins
2x Scotch Beef Ribeye Steak (227g)

Salsa:
80g sweetcorn
40g de seeded and diced tomato
40g diced red pepper
12g chopped coriander
1 lime (juiced)
4tbsp olive oil
Salt to taste

Rub for steak:
2tsp salt
2tsp cumin
2tsp chilli powder
2tsp dried oregano
Mayo:
100g mayo
2tsp smoked paprika
DIRECTIONS:
Remove steaks from the fridge 15mins before cooking and rub with the seasoning.

Salsa
1. Place a pan on the heat with a small amount of oil, cook the diced red pepper and sweetcorn until blistered and slightly char, place in a bowl and allow to cool.
2. Once the peppers and sweetcorn have cooled slightly, add the tomato, coriander, lime juice, oil, and salt, combine together and leave them to the side.

Steaks
1. Season the steaks
2. Place a pan on the heat until it starts to smoke slightly, drizzle some oil over the seasoned steaks then place them in the pan
3. Cook for 2 mins on each side, or to the desired temperature, place on a wire rack, and allow to rest for 5 minutes.

Sauce:
In the meantime place 100g of mayo into a small bowl and add the smoked paprika, add a pinch of salt if desired.

Tortilla:
1. Place the tortillas into the microwave for 30 seconds until warm.
2. Carve the meat into thin slices, cutting against the grain
3. Take a tortilla, add some smoked paprika mayo, then a few slices of steak, and finally the salsa.
4. You can add a squeeze of lime or another sprinkle of coriander if you wish.