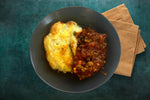 Slow cooked chunky Shepherds Pie
Ingredients
Serves: 2-3
Prep Time:30 mins
Cook Time: 2-3h
500g Scotch Diced Lamb
1x onion diced
2x celery sticks diced
2x carrots diced
100g peas
2x cloves garlic, minced
2x sprigs of rosemary
2x tbsp tomato puree
Chopped fresh mint (approx 3g)
150ml red wine
1x knob of butter
Grated cheddar for topping
1 litre Good quality lamb stock
Half a tbsp red currant jelly
Salt and pepper to taste


DIRECTIONS:
Start by heating oil in a large saucepan, tip in the meat and cook until browned, add the veg and the garlic, sweat but don't colour.
After that, add the tomato puree, redcurrant jelly and butter. Stir until everything is combined.
Add the red wine and deglaze the pan stirring constantly. Pour in the lamb stock, bring to the boil, turn down the heat and simmer for 2 to 3 hours or until the sauce has thickened and the meat is tender.
Once that's done, add the peas and give a stir through before taking the pot off the heat.
Transfer the meat mixture into an ovenproof dish, cover with plenty of creamy mashed potato, add a sprinkle of grated cheddar, place on a baking tray and into the oven at 200

°C

for approx. 20 mins or until the topping is golden.