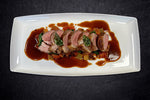 Scotch Lamb Loin Fillets with Ratatouille, Wilted Spinach and Basil infused Lamb Sauce
Ingredients
Serves: 3
Prep Time:20 mins
Cook Time: 40 mins
1 x 2 Scotch Lamb Loin Fillets 
Ratatouille
75gx 5mm diced red onion
50gx 5mm diced red pepper
50gx 5mm diced green pepper
60gx diced aubergine
100gx diced courgette
7gx shredded fresh basil
7gx crushed garlic
20g x tomato puree
Salt & Pepper
400gx tinned tomato
150gx water
10g sherry vinegar
30g x olive oil
Sugar
Lamb sauce
50gx Finely dice shallots
5gx crushed garlic
20gx olive oil
15gx tomato puree
20gx redcurrant jelly
15gx butter
50mlx white wine
250mlx good quality lamb stock
20mlx water for cornflour
10gx cornflour
10gx fresh basil chopped
5 gx Gravy browning
Salt & pepper
10mlx Sherry vinegar
1gx Fresh chopped rosemary
Wilted baby spinach
1x Bag of washed baby spinach
25g butter
1tablespoon of olive oil
Salt & pepper
DIRECTIONS
Ratatouille
Heat pan on medium heat, add 1 tbsp olive oil and gently fry red onion for a few minutes, moving around pan.
Add peppers, aubergine, courgette and again fry for further 10 minutes, add garlic for 1 minute then add tomato puree and cook for 1 minute.
Add sugar and seasoning, then add tinned tomato and cook for 2 minutes,
Then add basil and water and cook for further 5 minutes, remove off heat and adjust seasoning if required.
Set aside and start preparing the Lamb Loin Fillets
Scotch Lamb Loin Fillets
Pre-heat oven 180

°C

Place frying pan on a high heat, until smoking.
Add a tablespoon of oil.
Season lamb loin fillets with salt and pepper
Place fillets in the pan, Fat side down and reduce heat to medium.
Caramelize the Fat for approx 2 minutes then caramelize the rest of the loin fillet for a further 2 minutes .
Place fillets Fat side up on a pre heated tray bake in the oven for 8-10 minutes
Remove and allow to rest for further 10 minutes. Meanwhile, prepare the Lamb Sauce.
 Lamb Sauce
Gently fry shallots in butter & olive oil without colour for 4 minutes, add garlic and rosemary and fry for 1 minute
Add tomato puree and garlic and fry without colour for 1 minute
Add white wine and reduce by ½, add redcurrant jelly and stock and reduce again by half, blend sauce with hand blender till smooth, add salt and pepper to taste
Add gravy browning to colour, thicken with corn flour and water and reduce till coating consistency
Add basil and infuse, strain before serving.
Wilted baby spinach
Heat sauté pan on high heat
Add oil and butter
When hot add spinach and stir till it wilts
Season with salt and pepper and remove into sieve to drain juices
Serve immediately with warmed ratatouille and sauce
Carve the Lamb Loin Fillets and serve on top of the Ratatouille and Wilted Spinach.