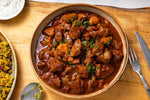 Spiced Lamb Casserole
Ingredients:
Serves 4
Prep Time 30 mins
Cook Time 2 hours
1kg JW Galloway Scotch Diced Lamb 
40g vegetable oil
3 red onions, sliced
3 cloves of garlic, grated
2 tsp ground cumin
2 tsp ground coriander
½ tsp cinnamon
3 tsp garam masala
½ tsp salt
½ tsp cracked black pepper
50g tomato puree
2x 400g tinned tomatoes
500ml light lamb stock
30g honey
15g fresh coriander
100g dried apricots
Directions:
Preheat oven to 160c fan. Add vegetable oil and diced lamb to a large casserole pan and fry until lamb is coloured. Add in the red onions and cook for 3 minutes.
Add garlic, cumin, coriander, cinnamon, garam masala, salt and pepper to the pan and cook out. Add the tomato puree and cook for a further minute. Pour in the tinned tomatoes, lamb stock, honey, fresh coriander and dried apricots and stir.
Transfer casserole pan to oven and cook covered for 2 hours until meat is tender. After 1.5 hours check the Casserole, if the sauce needs thickened remove the lid for 30 min.